The culture of the Fried Chicken shop is something very London. I never realized until quite recently, when I had some friends over from South Africa, and they commented that it's probably something which is most symbolic of London. I was stunned, the Big Ben, Buckingham Palace and the London Eye are all dwarfed in iconic status by Big Maz's franchise of Disco Fried Chicken on the corner?!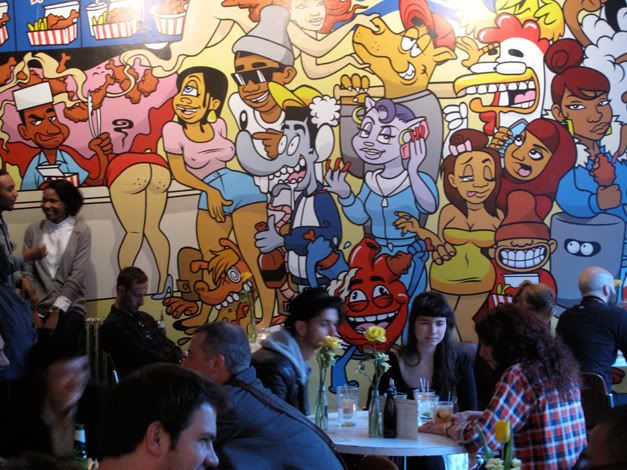 However, every 5 steps I took, I started to notice yet ANOTHER chicken shop, and I realized these South Africans were completely spot on. Mr Khan is actually the unsung Hero of East London, where else are you going to pick up a grease-spiked piece of not-so-fresh fowl carcass at 3.52 am, and STILL actually derive some pleasure from the experience?!
See, you couldn't give me an answer...
Chicken Cottage, Sam's, and any other rip off of the KFC franchise is one of young London's collective late night guilty pleasure's. The other being that post-clubbing booty call to that slightly over weight bird who always let's you bus-a-nut on her chest.
It was a pleasant surprise to hear about an Exhibition in Shorditch which celebrated the Coronary-bypass-palaces as a True-blue cultural phenomenon of my fair city Londinium.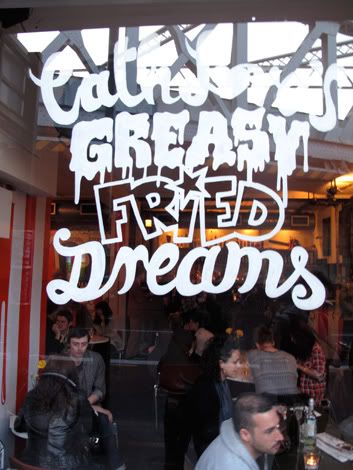 Bangkok (teehee) born Cathlove, is a creative fireball who gives birth to whimsical satirical art, which is accessible to everyone. Now based in Hackney, via Hong Kong, and Australia, Cathlove has quickly established herself amongst the scene as a major talent, having already worked with brands as diverse as Selfridges and WAH amongst others.
Her comical, cute, although often grotesque work, is always charming and thought provoking, without being preachy. The show entitled 'Greasy Fried Dreams' is not only a scathing commentary on the unhealthy western habit for gluttony and it's more-more-morementality, but one that pokes the potbelly of rampant capitalist consumerism, and tells it to wipe its dribbly chin, with a lemony-fresh complimentary wet-wipe.
I discovered her while skipping through the cyber-playground of Facebook one day, and was bowled over by the impact of the marriage of simple imagery, with complex, intelligent ideas. And when she invited me to the show at the Jaguar Shoes bar on Kingsland rd, and told me that the project was based around the yummiest of late night binge food, that's the moment I realized I had found my soul mate!
The work itself include a couple of spectacular pieces, which are effectively wallpaper that take up the whole of the walls in the bar, they are psychedelic commentary on Hiphop, surreal consumer obsessed culture, including the late night smelly pervert, the Big Booty Chicken Head Diva, and even a fat-inflated heart ready for a triple bypass.
In short, what I imagine hell to look like, if Devil provided a Chicken Burger Meal for £3.29.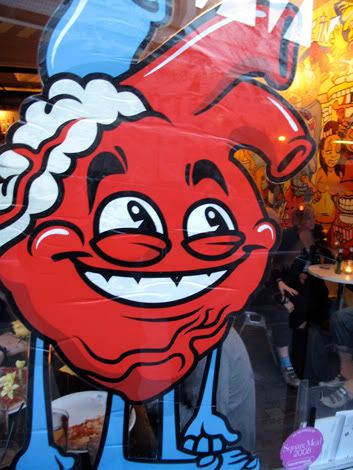 Catch the work at Dream Bags Jaguar Shoes, 32-36 Kingsland Rd for the next couple of months. It's well work going there to check out the work in all it's glory, and studying all of the wonderfully ridiculous details.
Find more of her excellent work at www.cathlove.com
Also follow her personal journey through life on her blog cathlove-cathlove.blogspot.com
You want ketchup on your fries boss? What Kind of drink you want with your meal mate?
Check this amazing video on SpineTV, I think it pretty much says it all about the girls effortless talent!